My Experience in Brazil
By Vintage - On 16 Jul, 2018 - 0 comments
I had the privilege of traveling with our team of twelve to Brazil. On our fully-guided, seven day trip our team had the opportunity to share God's love with Brazilian children and families in need. We got to experience all the facets of Compassion International's ministry in Brazil while enjoying opportunities to interact with and encourage local staff, children, and families in practical and meaningful ways. We played games with the children, enjoyed meals, visited homes, assisted with vacation Bible school, and provided support for a work project. And best of all we got to meet our sponsored children!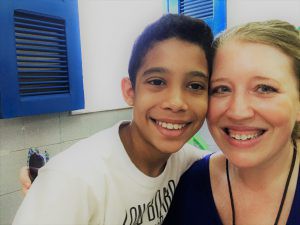 It is hard to put into words how incredible it was to meet two of my sponsored kids. The excitement and gratitude was overwhelming. Picture walking into a room that's buzzing with excitement. The room is filled with sponsored kids, their families, church workers, and compassion staff all waiting for you to enter. You look around and try to recognize your sponsored child. I immediately saw Francisco, I called out his name and his face lit up. It took me a few more minutes to search the room and find Rayane, she was a little shy, tucked away behind her mom, but she flashed me a smile once we made eye contact. As we made our way into a smaller room, I was introduced to my sponsored kids' entourage. I met their mothers and the pastors from their churches. We spent the first twenty minutes just taking pictures. Smiling at each other, putting our arms around each other, simply grinning from ear to ear. You could sense the eagerness to memorialize that moment, documenting that I'm here and they're here and this is real! After we took lots of pictures, to my surprise, my sponsored kids presented me with gifts to open. I was flabbergasted. These kids and their families, who live in poverty are finding ways to buy me gifts? My heart sank knowing the financial strain that could have caused to buy me a gift, but I was overwhelmed with gratitude knowing the sacrifice for that gift was so meaningful. They were beaming with pride and excitement as they anticipated me opening the gifts they presented.
Part of the gifts my sponsored kids provided me included hand-written letters in Portuguese. As I listened to the translator read the letter from Rayane, I learned that her father abused her mother in front of her. She has two younger sisters, just like I do at home. My heart broke hearing what she experiences day-to-day at such a young age. I grew up in a loving two-parent household where everything I needed was always provided. It's hard hearing the challenges my sponsored kids are faced with every day. learned that my sponsored kids not only face challenges that come with poverty but also drug and gang violence that tempts the children in their local projects.
It was eye-opening to learn that my sponsorship, a small sacrifice for me, made such a big difference to them. My relationship with them is forever changed after we met. I am disappointed in myself for the lack of letters I sent prior to this trip, but am eager to make up for it as I promise to write them, encourage them, pray for them and love them from afar. I told both their moms that I don't have any children back in the states, but I will think of their children as part of my family from now on.
If you'd like more information on sponsoring a child in Brazil, or sponsoring more children in Brazil, you can read more here.