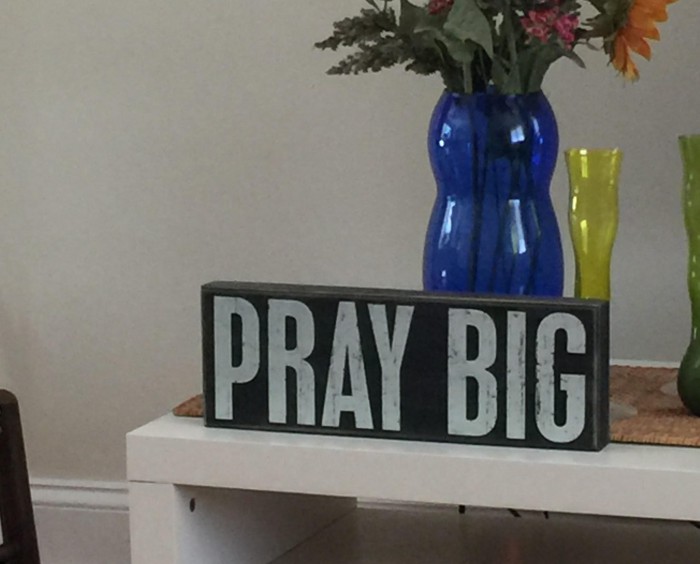 Breast Cancer Awareness Month: Hope
By vintagechurch - On 06 Nov, 2018 - 0 comments
Hello, Vintage Church! At the close of Breast Cancer Awareness month, please remember this: October is not the only time you should be aware of those suffering with this disease. For those of us who are praying for wellness, for those who have passed, and for our loved ones, it's a time to be thankful for God's grace all the time. We are all healed by God's sacrifice.
I'd like to share some experiences of my personal healing from God during this time, to try and share the Hope that is in the risen Christ. Hope moves in step with faith; it's a choice to hope!
In the months before my breast cancer diagnosis in 2012, I had hit a brick wall; I knew Jesus and believed in his resurrection, but I didn't feel his Spirit. I went into the dark, back corner of my closet and screamed, moaned and cried out to God to please allow me to feel joy. Knowledge of Jesus was not enough.
At that point, I had surgery to remove my cancer and was declared "cured," yet, I was still miserable. I was traveling for work most of the time. I tried to parent from hotel rooms, and missed so many of my children's key years. I have a large wooden sign in my house that encourages me to "Pray Big." I felt God telling me to jump in faith, knowing that he would catch me. I quit my job and went back to a previous role I loved. On day two of this new job, I was told I had incurable breast cancer in my bones. The cancer was back, but that wasn't all. My husband Scott had just lost his job. It all sounds hopeless, doesn't it?
"Yet he did not waver in unbelief regarding the power of God, but was strengthened in his faith and gave glory to God, being fully persuaded that God had the power to do what he promised." – Romans 4:20-21
I fully admit that this was not an easy season. We had to go through a grueling time as a family, including moving three times until December 2015 when we were finally able to find a permanent home. Our family had been separated, (including our dogs)! In January 2017 I was diagnosed with an even more aggressive form of breast cancer. But in the midst of this, God was working miracles; I won't list all the miracles God performed, because unless you have that relationship with Christ, my miracles may seem far-fetched.
It is nearly impossible to fathom how anyone can survive the emotional fear, let alone the physical demands of battling cancer without Jesus. I've learned that faith is tested and tried before it is real in our life. Hope is not something you can see; it's what you do when you know with certainty that God is there. Remember when I cried out to feel joy? To feel Jesus? He answered my prayer; knowing that breast cancer would be a test of my faith. This may sound ludicrous, but I would not change my current circumstances to return to being that miserable woman in the closet.
If you have cancer or any chronic disease, go to your church – to your community. I am thankful for the elders of Vintage Church who prayed over me on April 15th of this year.
"Is anyone among you sick? Then he (she) must call for the elders of the church and they are to pray for him, anointing him with oil in the name of the Lord, and the prayer offered in faith will restore the one who is sick; and the Lord will raise him up. If he has committed sin, they will be forgiven of him." – James 5:14-15
When I was diagnosed with a 2% chance of survival and given weeks to live (in front of my whole family), I smiled and said "Well that's not much, but God doesn't need any percentage points. Let's leave this up to him. What's next?" It seems bold to respond in this way, but I believe in the God of Abraham, Isaac, Job, David and the God who provided for them. How can we not believe?
I am healed – this I believe! When the cancer cells are gone we will sing praises to God! The photo in this blog is Amy Keesee praying over me. I highly encourage you to contact me if you'd like a copy of her book, "Healed Overnight." It's filled with scripture verses for you to read and reference, and her story is a story of God's miracle healing today.
Jesus said: "This is what I want you to ask you to do, ask the Father for whatever is in keeping with the things I've revealed to you. Ask in My Name, according to My will and He'll most certainly give it to you. Your joy will be a river overflowing its banks." – John 16:23-24
The moment we get tired in the waiting, God's Spirit is right alongside us, helping us along. If we don't know what how to pray, in doesn't matter. The Holy Spirit does our praying for us; making prayer out of our wordless sighs and groans. He knows us far better than we know ourselves, knows our (pregnant) painful condition, and keeps us present before God. That's why we can be so sure that every detail in our lives of love for God is working into something good!" – Romans 8:26-28
Allow me to close with this – my favorite verse on the power of Hope and Faith.
"Faith is the substance of all things hoped for, not seen."
In His Grip,
Deborah Justice-Place
Surviving Breast Cancer through God's Grace since 2012!