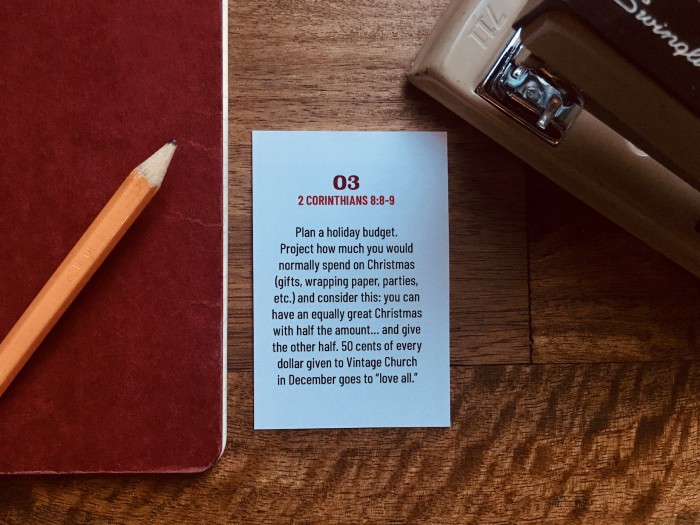 Advent Conspiracy, Day 3
By Vintage - On 03 Dec, 2018 - 0 comments
2 Corinthians 8:8–9 (ESV)
"I say this not as a command, but to prove by the earnestness of others that your love also is genuine. For you know the grace of our Lord Jesus Christ, that though he was rich, yet for your sake he became poor, so that you by his poverty might become rich."
It's Day 3 of the Advent Conspiracy, and our first activity dealing with the tenet to Spend Less. In 2 Corinthians 8:8-9 Paul is referring to the generous giving of the Macedonian churches, encouraging the church in Corinth to "excel in this act of grace also." In verse 8 Paul writes that such generosity is evidence of genuine love.
We have been loved by our Lord Jesus Christ, whose free gift of grace has made us rich in love. With all we've been given, as people of love, we are then to focus on others. To love others means to be focused on them, giving to them of all we are and all we have. No one showed this more than Jesus Christ, who for our sake became poor so that we we might become rich. This Advent Season, we spend less not simply to step out of the hamster wheel of materialism, but to properly use what God has given us to love others.
Here's a quote from Advent Conspiracy: Making Christmas Meaningful Again by Rick McKinley, Chris Seay, and Greg Holder
"Christmas is a season of excess. It is difficult to walk against the crowd who seem to want nothing more than to 'eat, drink, and be merry'…and then do it all again. Spending less requires us to plan, research, and cultivate relationships–pursuits that are more taxing than flipping through the latest catalog or bingeing online. However, as we choose to go against the cultural flow, it is important to remember that spending less on Christmas presents doesn't mean we love our friends and family any less. In fact, we will often find that those to whom we give creative, personal gifts will see and sense our love–and perhaps God's–more clearly than ever before."
Parents, include your children in the discussion, even if they're young. This will help them see the limitations of resources, and what it means to operate out of a budget. As you are purposeful in discussing a budget for gift-buying, this will hopefully create a mindset that Christmas isn't about giving material gifts, but rather celebrating God's greatest gift, Jesus.