ABOUT VINTAGE STUDENTS
Vintage Students are passionate about our mission, our students, and our amazing God! We believe that Jesus revolutionized the world through something we often take for granted: the power of students. We've created an environment where every student involved is known, cared for, and loved. Vintage Students is made up of two age-specific community groups for high school and middle school students. If you're a student, we have a group that's perfect for you!
Vintage Students has 3 primary goals:
1) We strive to point students to Jesus (KNOW). We want to teach students about the love of God through Jesus, using our words and our deeds.
2) We strive to point students to the Church (LIVE). We want to help students find community within the church, assimilate into the greater life of the church, and cultivate within them a love for the church.
3) We strive to point students to their community and city (ADVANCE). We want to train, empower, send out, and support students in loving others through act of service, and sharing the good news with them through intentional, relational evangelism.
---
EVENTS
Vintage Students is dedicated to hosting fun and exciting events where students feel welcome and part of our family. To find out about the events students will be participating in, visit our Events page.
REGULAR MEETINGS
Vintage Downtown – Sundays at 6:30-8p at Vintage Church Downtown. Email john.baggerman@vintagenc.com for more details.
MEET VINTAGE STUDENTS LEADERSHIP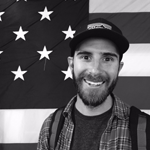 John Baggerman
Born and bred on the east coast of sunny Florida, John moved to Raleigh in the summer of 2015. He attended Palm Beach Atlantic University where he earned a degree in Ministry Leadership. Post college John has served in various church internship roles in both Florida and Georgia, while also working jobs that let him get his hands dirty. When he's not tightening toilet seats and changing light bulbs at the historic Vintage Church building in Downtown Raleigh, you can find him exploring the Triangle, venturing to the mountains or sea, biking, enjoying all things music, or eating ice cream.