Pastors & Staff
Executive Leadership Team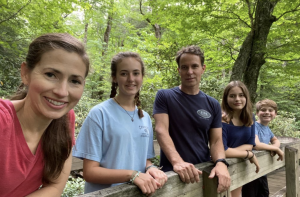 Tyler Jones
Lead Pastor
Tyler@vintagenc.com
Tyler and his wife Kimberly moved to Raleigh in 1997 after graduating from UNC Chapel Hill. After working with InterVarsity Christian Fellowship at North Carolina State University for five years, they felt called to plant a church in downtown Raleigh. Vintage Church was planted in the fall of 2002 with a small group of people and currently has three locations in the Triangle that meet every Sunday. He has served in leadership of Acts29 and planted five church-planting regions, while coaching and working alongside church plants in Europe and Africa. Tyler also founded Advance the Church, a cooperative nondenominational movement to help plant and revitalize local churches. Tyler and Kimberly have three little ones: Ellia, Lyla, and Lincoln.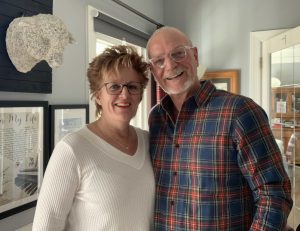 John Kerr
Executive Pastor of Local Congregations
John.Kerr@vintagenc.com
John, along with his wife Alison and their three children Lara, Robbie, and Hayley, arrived in Raleigh in 1996. They came from West Kilbride, Scotland, to begin their third international assignment with IBM. This became a  permanent move and allowed the Kerrs to continue serving in their local church as lay leaders in an urban church plant. John has served the local church in a variety of roles over the years as Youth Director, Bible Study Fellowship Leader, Worship Leader, and Community Chaplain, while John's passion for soccer also led to serving as a soccer coach. It was the Kerr children who introduced Vintage to their parents while at the Oberlin Road location. It was also at Vintage where Lara met her husband, Ben Purnell, and a splash of Carolina Blue was happily added to the Kerr Clan tartan! Prior to joining Vintage, as well as celebrating 36 years of marriage, John also celebrated 30 years of service with IBM/Lenovo, where he led teams in both the USA and China. The Kerrs get more excited about "Y'all" every day.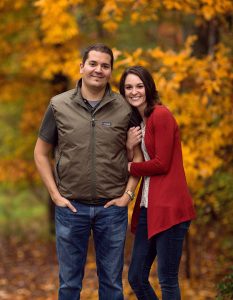 Ellie Ismail
Executive Director of Strategy and Operations
Ellie.Ismail@vintagenc.com
Ellie was born and raised in Indianapolis, IN. She received her Bachelor's in Industrial Engineering from Florida State University, then relocated to Raleigh in 2011, working as a technical sales engineer. She began attending Vintage Church her first week in Raleigh, becoming a member that same year. Ellie fell in love with the natural beauty of NC, the local triangle community, and also with Adam, meeting him in their community group that first year, marrying in 2012. With the amazing support of her husband, Ellie co-founded a small company in 2014, becoming more involved in the local entrepreneurial community. After sunsetting her 2-year-old business, she knew she still wanted to lead an effort that tended to the well-being of others. Leaving sales, she joined a startup in Durham, learning the ins and outs of business operations as their Director of Operations for almost five years. With God preparing her heart and mind over the years, she felt the pull to move into ministry, joining Vintage's staff in 2019 as their Executive Director of Operations. She has a heart to bring her passions and skills to help grow and love the church and city, sharing Christ's unending love to everyone.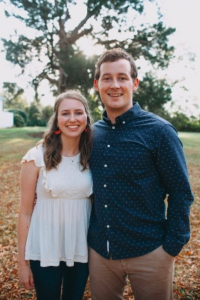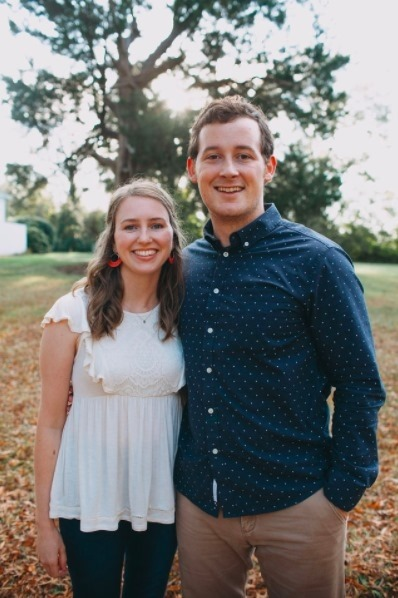 Jordan Penley
Local Pastor
Jordan and Jessica came to Raleigh in the early 2000s to study at North Carolina's finest university, NC State. After graduating, they both worked with Cru at NC State for several years. Now, Jordan is gratefully serving as the Local Pastor at Vintage's downtown location. In 2020, he finished his Masters of Theological Studies from Grimké Seminary. He spends his week shepherding and caring for the Downtown staff team, discipling leaders at Vintage, launching community groups, and caring for pastors in the Acts29 Church Planting network. Jordan is passionate about equipping followers of Jesus to spiritually engage with others and challenging doubters and seekers to investigate the claims of Jesus.  Jordan and Jessica are thankful to be a part of what Jesus is doing in our church and the city of Raleigh.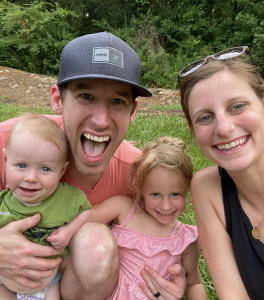 Kayla Pleasants
Family Ministry Director
Kayla came to Raleigh in 2007 as an education major at NC State and began attending Vintage Church as a sophomore in college. After plugging into a community group, Kayla made Raleigh and Vintage her home, and stayed in Raleigh after graduation. Kayla loves children and families and spent years working in public education before joining Vintage Staff as the Family Director. Kayla loves drinking all the coffee and spending her free time with her husband, Tyler, and daughter, Winnie, hiking, camping, and enjoying Raleigh.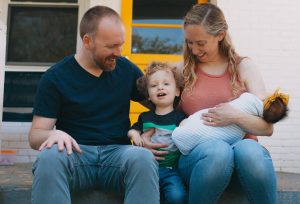 Eric Spivey
Community Groups Pastor
Eric hails from Gastonia, North Carolina, and after graduating from Appalachian State University in 2012 he moved to Raleigh to intern with Vintage Church Durham. Now Eric serves as the Community Groups Pastor for Vintage Church Downtown, leading community groups and other group ministries. Eric loves his family dearly—he met his wife, Annika, at Vintage many years ago, and they now have an amazing son, Abe, and daughter, Lena. Eric is honored to be involved in the spread of God's Kingdom through Vintage Church and is glad to call Raleigh home.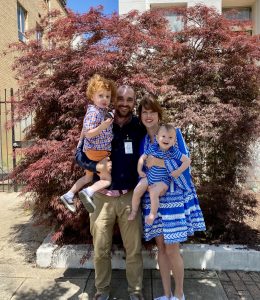 Mike Shillinglaw
Church Planting Resident
Mike was raised in the Raleigh area and graduated from NC State. While working as a public school teacher, he cut his teeth in ministry at a church plant in the Triangle where he eventually was called onto the pastoral team. After marrying Dana, they moved to Western NC to pastor and attend seminary. In 2022, Mike, Dana, their two sons, Miles and Brooks, and their dog, Beaufort, moved back to the Raleigh area to come on staff at Vintage. They are grateful to God for his kindness in bringing them back to the Raleigh area and allowing them to be a part of Vintage Church. Mike enjoys spending time with his boys outdoors and anything that gets his heart rate up. You're most likely to see him reading with coffee nearby, running a local trail towed by Beau, or desperately trying to find someone to introduce him to Pickleball.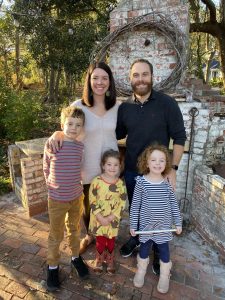 Lizzie Merritt
Kids Ministry Director
Lizzie is a North Carolina native and a graduate of NC State University.  While at NC State she met her husband, Dan and they have called Raleigh home ever since. They have 3 children: Jake, Anna, and Nora.  They have been attending Vintage Downtown regularly since 2011.  Lizzie has been a part of Vintage Kids in many capacities from serving in the Pre-K rooms to helping plan and lead Vintage's VBS over the last 10 years. She is looking forward to loving, caring, and equipping Vintage Kids and the kids in our surrounding communities to know, live and advance the gospel of Jesus. When she is not caring for the kids and families at Vintage she enjoys spending time at the beach and on the boat with her family.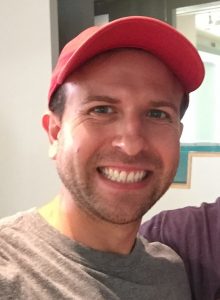 Ben Snow
College Ministry Director
Ben is a Raleigh native and a graduate of N.C. State University. He served in college campus ministry in the Dominican Republic and eastern North Carolina before joining the staff at Vintage. Ben loves being active, whether it's playing soccer or tennis, walking, rock climbing, or playing any other sport. He enjoys spending time with his family and friends and taking trips to the beach or mountains. He's thankful for the opportunity to serve with Vintage College and is excited to see lives changed for the glory of God.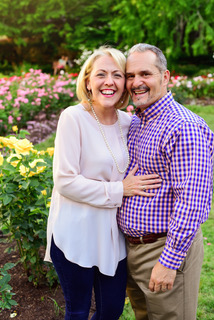 Craig Smitley
Benevolence and Facilities Manager
Born and raised in Ohio, Craig went on to Mt. Vernon Nazarene University where he met his wife Marsha.
After starting his career at Union Carbide in 1980, Craig and Marsha were transferred to Raleigh in 1981 where they raised their two boys and now have the privilege of loving on four grandkids.  Over a career of 39 years, Craig worked as an Analytical and Residue Chemist.  During those years God used Craig and Marsha in various ministries, including 17 years of working in urban ministry with at-risk children.
Currently Craig is serving God through his work at Vintage Church as the Benevolence and Facilities Manager.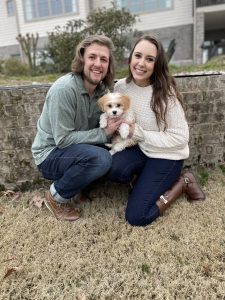 Dylan Motta
Student Ministry Director
Dylan was born and raised in Grove City, Pennsylvania, Dylan earned two Bachelor's degrees in the fields of Biblical and Religious Studies and Communications from Grove City College.  After graduating in 2017, Dylan got married, escaped the cold winters, and moved south to Union County, North Carolina with his new wife, Kristen, to join YoungLife staff.  Every time Dylan and Kristen visited family in Raleigh, they fell more in love with both the city and Vintage church, which truly felt like home. During the summer of 2020, in the middle of a pandemic, Dylan started his dream role at Vintage Church working with middle and high school students in the Raleigh area. He has a passion for building relationships and cultivating the next generation of leaders.  In his free time, Dylan enjoys exploring downtown Raleigh with his wife and new puppy, Nugget, looking for the best food, adventuring outdoors, and enjoying time on the lake.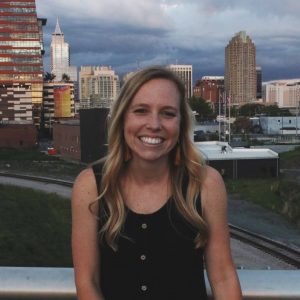 Lauren Clark
Mission and Ministries Director
Lauren grew up in Charlotte, North Carolina and moved to Raleigh in 2016 as a Social Work major at NC State. After falling in love with the city and with a church that showed her the freedom and love found in Jesus, she felt the call to labor and plant roots here. She is incredibly grateful to have the opportunity to serve this city through working with our local social justice partnerships, through telling college students about Jesus, through rousing the church to respond to God's call to care for the orphan, and through building gospel-centered community among believers. Lauren loves the mountains, playing soccer, a good coffee shop accompanied by a good book, concerts, traveling, time spent with friends, and of course, enjoying the sweetest city- Raleigh!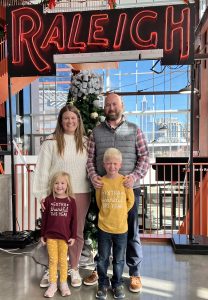 Megan McCool
Connections Director
Megan was born & raised in the Finger Lakes region of upstate New York. She moved to the Raleigh area in the summer of 2008 after accepting a position as a classroom teacher in Johnston County. Megan found Vintage when she was invited to visit with a new friend and she has called Vintage's community home since early 2009. Megan married her husband, Micah, in 2012, and they have been blessed to welcome their two children, Maddox and Miller Ann, and a chocolate lab, Paisley Grace, into their family. Megan loves to meet new folks and build relationships and is so grateful that God placed her on Vintage's staff to do just that. She enjoys drinking too much iced coffee, traveling with her family, curling up with a good book, and being on the water (any river, lake, or ocean will do)!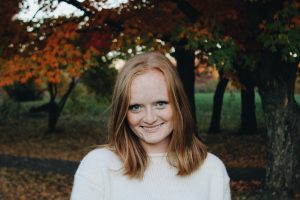 Mackenzie Martin
Events and Admin Coordinator
Mackenzie grew up in the mountains of South-Western Virginia. She then earned her bachelor's degree from James Madison University in Harrisonburg, Virginia. During her time at JMU, she served on leadership for InterVarsity Christian Fellowship. After graduation, Mackenzie moved to Raleigh in July of 2020 to pursue a Master's degree in Clinical Mental Health Counseling at North Carolina State University. She is very grateful to be able to use her passion for connecting with others and biblical hospitality in her role as the Downtown Administrative Coordinator. Mackenzie also loves all things outdoors and nature, pouring into her photography business, and baking.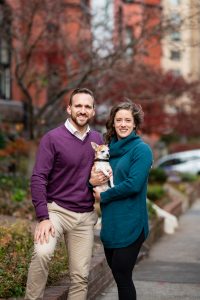 Jennifer Murphy
Wedding Coordinator
Jennifer grew up in Missouri and Arkansas (with a short stint in Florida). She moved to Raleigh in 2012 after graduating from Clemson University with her civil engineering degree. She and Forrest (her chihuahua mix) have been like peas and carrots since late 2013. Jennifer married her husband, Michael, in 2017 and they started attending Vintage shortly after. Since developing a community at Vintage, they finally feel like Raleigh is truly home! They became licensed foster parents in late 2020 and plan to adopt older children. Jennifer loves going to movies at Alamo Drafthouse, hiking, drinking coffee, scuba diving, Disney, and hanging out with family. She is excited to walk alongside couples as they go from engaged to married!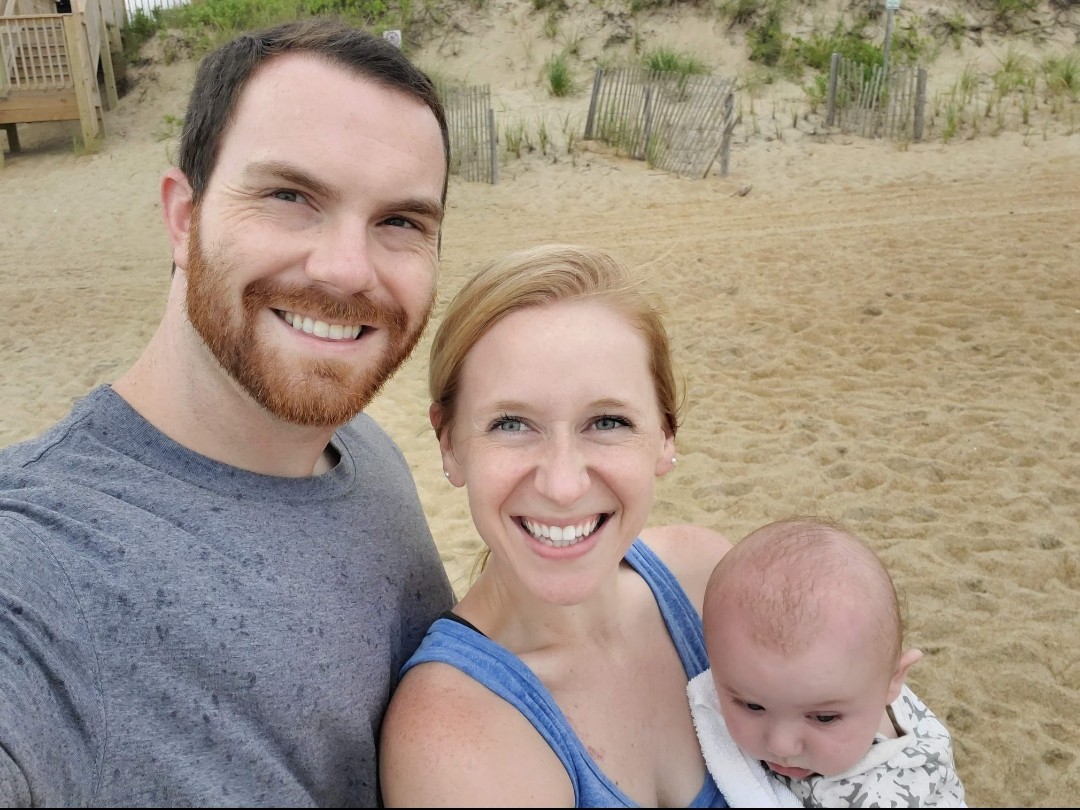 Savannah Carroll
Membership Director
Savannah grew up in Texas, but after living in North Carolina for over a decade, she gladly calls Raleigh home. After graduating from Southeastern Baptist Theological Seminary with a concentration in Philosophy & Apologetics in 2013, she is now finishing another degree in Nursing. She's been a member at Vintage since 2011 where she has served as an intern, greeter, community group leader, and now Membership Director. She considers it a great honor to be living life with the people at Vintage. If she's not in school or working, she likes reading, running, trying not to be clumsy, and spending time with her husband, Josh and their son, Bez.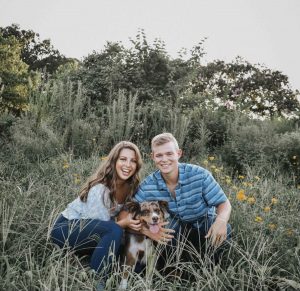 Cassie Lowry
Ministries Resident
Cassie and her husband Josh grew up in Hickory, North Carolina. They have called Raleigh and Vintage home since early 2019, after they both graduated from App State. Cassie majored in community, global & regional sustainable development, and started her photography business in 2013. She has been a full time wedding and portrait photographer since graduating college and is excited to pivot to ministry through her internship with Vintage Students and partnerships. When she is not photographing a wedding, editing multiple galleries or working at Vintage, she loves to travel, specifically to the mountains to hike & camp, read a suspense novel, drink iced oat milk lattes with friends, and spend time with Josh and their Catahoula-Australian Shepherd, Luna!
+ if you go to 2 roosters…chances are, you'll see her there!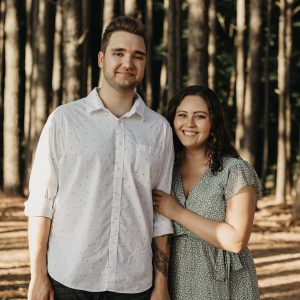 Jordan Brazinski
Ministry Resident of Community Groups
Jordan hails from Greensboro, NC, and came to know Vintage Church through his fiancé, Cashie. After graduating from Manna University with his Bachelor's in Divinity in May of 2022, he was offered a full-time ministry position at Vintage as a Ministry Resident of Community Groups. Jordan's heart for increasing Biblical literacy and people finding community inspires his work in community groups. Outside of ministry work, Jordan loves discussing great books and trying out restaurants around Raleigh with Cashie! During Fall-Spring, you can catch him watching the Philadelphia Flyers and in the summertime, the Chicago Cubs!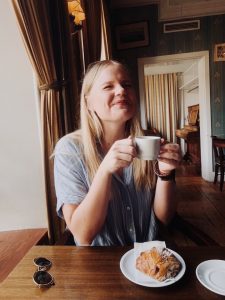 Cat Mallard
Women's Ministry and Mobilization Resident
Cat grew up in Oxford, NC, and moved to Raleigh in 2016 to pursue her degree in Elementary Education at NC State. After undergrad, Cat taught 1st Grade in Apex for two years. During her time as a teacher, she felt the Lord calling her into vocational ministry, a desire placed in her heart in college. At Vintage, she serves as the Women's Ministry and Mobilization Resident. Cat is passionate about the Great Commission and hopes that many nations, tribes, and languages would be represented in the Kingdom of God because of the efforts at Vintage Church. Cat also loves to care for women and point them to Jesus. She helped start In His Image, a ministry for women who struggle with body image, food, and disordered eating. Outside of Vintage, you can find her sipping cold brews at local coffee shops or cuddling with her pup, Odie.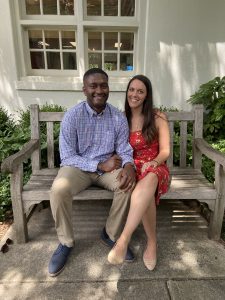 Lamar Parris
Resident of Community Engagement
Lamar was born and raised in the mountains of South-West Virginia. He attended Radford university for one year and then transferred to Liberty University where he met his wife, Jessica. He then moved to the triangle in the summer of 2018. After being a part of Vintage Church for a few years, he felt called to leave his full-time job in law enforcement and take a step into vocational ministry.  He is passionate about walking alongside youth and loving the neighbors around him well. As Lamar is stepping into engaging the local community, his hope is to see many nations, tribes, and languages gathering and worshiping together here on earth as it will be in heaven. In Lamar's downtime, he enjoys all things music, fishing, and hanging out with his wife and pups, Autumn and Luna.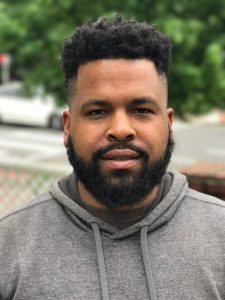 Shaun Cross
Local Pastor
Shaun grew up in Northern Virginia. He found his way to NC in college where he studied Religion and Broadcast Journalism at Campbell University. After attending Reformed Theological Seminary in Orlando, he moved back to NC and was on staff at a church in Fuquay-Varina. In 2014, he and his family moved to Northeast Washington DC as church planters. There he founded and pastored Union Church. In the summer of 2020, the Cross family moved to Durham to serve on staff here at Vintage Church. Shaun is passionate about helping people rest in the gospel and love their neighbors through lives marked by justice and mercy. Shaun is married to Melissa and they have three children: Hazel, Anderson, and Milo.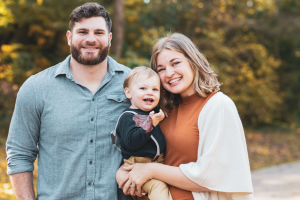 Philip Lauria
Associate Pastor
Phil grew up in Buffalo, NY where he met his high school sweetheart, Heather. Phil joined the Marine Corps after high school and went on to complete a degree in history and special education. After college, he moved to Durham, NC to begin his career as a special education teacher in the same city where Heather was working as a nurse. They were married in 2016, and life in North Carolina has been their greatest adventure. Phil and Heather began attending Vintage Church Durham shortly after getting married and knew that God had called them to dig deeper into the Durham community.  Phil is currently pursuing an MDIV at Southeastern Baptist Theological Seminary. Heather and Phil have been blessed to serve as foster parents in the city of Durham and have a two year old Son. Heather and Phil are grateful to serve the church together and to share the love of Christ through action.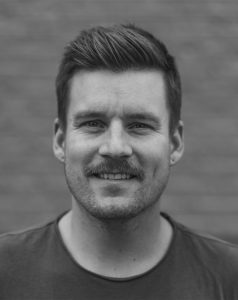 Seth Dady
Worship Director
Seth was born and raised in Texas. In 2003, he married his high school sweetheart, Crystal, and moved to Colorado in 2006, where they spent the next 10 years in full-time ministry. During that time he served in a variety of different roles beginning with youth ministry and transitioning into church planting and pastoring worship leaders and artists in the local church. In 2017, God called Seth and his family to Raleigh to join staff at Southbridge Fellowship, where he continued to pastor worship and creative arts ministries while learning the culture and make-up of RDU. During the following three years, God cultivated a deep love for the people and city of Durham. The Lord confirmed the call as Seth accepted an invitation to join Vintage's staff and serve as the worship director in Durham. He is a contemplative soul with a deep love for discipleship and leveraging others into their gifting. Seth is passionate about Jesus, the Church, his wife and their 3 kids, Stella, Quinn, and Sutton. He is committed to seeing the Church embody John's vision in Revelation 7, when one day all tribes will worship King Jesus together, on earth as it will be in heaven.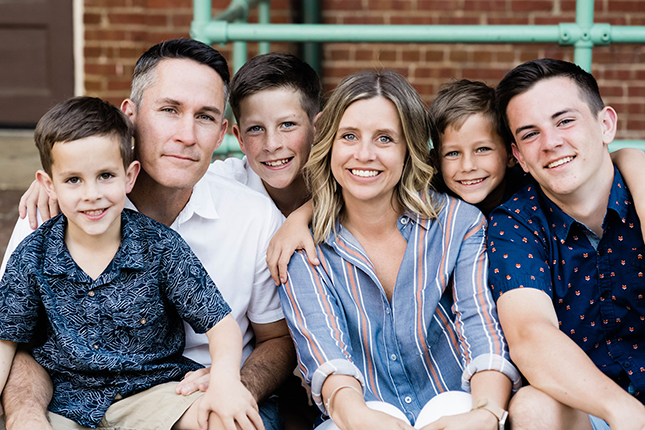 Jared Trumbo
Local Pastor
Jared and his wife Chyloe met at Liberty University where he played soccer and studied Religion and Spanish. Jared served as a Youth Pastor in Columbus, OH for nine years until the Lord led the Trumbos to serve orphans in Beijing, China. After several years, they ended up in the Triangle to minister to the international student population at UNC. The Trumbos were attending Vintage Church North when Jared was hired as Associate Pastor in June 2016 and then transisitioned into the North Local Pastor in 2020. Jared and Chyloe have 4 boys and love doing ministry together as a family.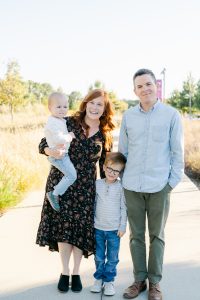 Chris Freeman
Associate Pastor
Chris is a North Carolina native and currently lives in Raleigh with his beautiful wife, Kaitlyn, and their two sons. The Freeman's have been members of Vintage Church for nearly a decade and have been blessed to call the North congregation their home. Chris has served the Kingdom professionally for roughly 13 years through various nonprofits designed to engage the city, specifically in youth and family ministry. On October 1st, 2020, he joined the Vintage Church: North team as an Associate Pastor and is continually amazed by Jesus' use of His church to make much of His name. Chris is a self-proclaimed connoisseur of smoked meats, a collector of vinyl records, guitar player, and an unauthorized music historian.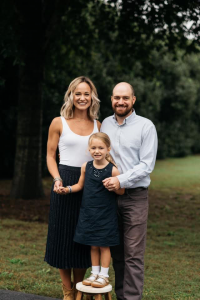 Jessica Hughey
Kids Ministry Director
Jessica Hughey is originally from Memphis, TN where she graduated from Christian Brothers University with a Masters' degree in Elementary Education. She taught Kindergarten and first grade in Memphis, Charlotte, and Raleigh for seven years before staying home with her daughter Emily. She and her husband Michael are in the long process of adopting their son from Burundi and hope to bring him home in the coming year. She loves running, being outside, and eating ice cream.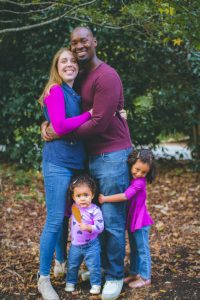 Tylor Gladden
Worship Director
Tylor was born and raised in Asheboro, NC. He received a Bachelor's in Vocal Performance from Greensboro College in 2008. In 2010, Tylor gave his life to Jesus, then followed Gods calling to move to Raleigh in 2011 where he found work as a Sales Consultant at CarMax. In 2012, Tylor married his high school sweetheart Laura, then continued to serve with his wife in the Children's Ministry at his prior church for 5 years until their church split. In 2018, The Gladden's were introduced to Vintage North by their neighbors, and within the 2 years of attending Vintage Church North, Tylor was hired on as a Worship Director October 1st. Tylor and Laura have two beautiful girls: Hope and Mae.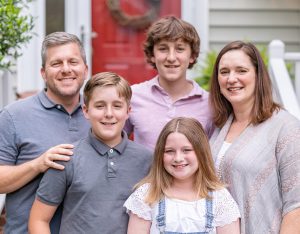 Chad Collins
Operations Assistant
Originally from Hillsville, Virginia, Chad moved to NC State University in 1994 and has called Raleigh home ever since.  During his time at NC State, Chad worked with the men's basketball program and is an avid Wolfpack fan.  He spent ten years working for a sports travel company and is in his sixth year with Wake County Public Schools.  His current job is Director of the Academy of Finance at Sanderson High School. His greatest find at NC state was his wife, Mary Catherine, and they have been married since 2001.  They have three children – Brady, Austin and Macie.  Chad and his family have been attending Vintage North (formerly Midtown) since February 2015.  A member of this family has done everything but preach at Vintage and they truly love serving in this amazing community!  Chad's Operations Assistant role includes logistical planning, set up and tear down for Sunday services and other special events.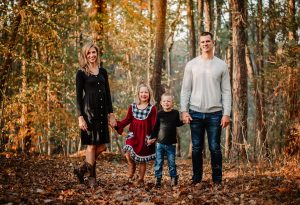 David Mobley
Local Pastor
David and his wife, Lauren, met at NC State and began attending Vintage Church as sophomores in 2007 when they initially felt God's call to church planting.  Upon graduation, they moved to Charlotte for a job offer and served at a local church plant until they felt called in 2015 to move back to Raleigh and rejoin Vintage as the next step towards church planting.  After completing the Eldership process and Church Residency Program, a Core Group from Vintage Church Downtown planted Vintage Church West on January 5th, 2020 in the heart of Cary & Apex.  David and Lauren have two children – Amelia Grace and Asher.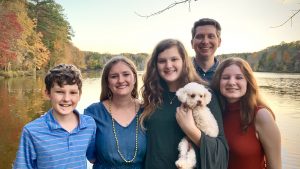 Amber Tingle
Kids Ministry Director
Amber and her husband Owen are originally from Georgia but have lived in the Triangle and been at Vintage since 2005.  Amber has taught elementary school and preschool and also been a stay-at-home mom for many years.  Amber and Owen have 3 children – Riley, Kenna, and Bryson.  She likes exercising, reading, musicals, the beach, and watching her kids do what they love.  And of course… UGA football!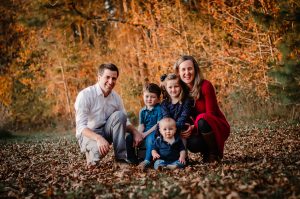 Elisha Kaufmann
Advance Director
Elisha was born and raised in Harmony, NC, and attended UNC Charlotte where she met her husband, David. Shortly after graduation in 2008 she moved to the triangle and joined Vintage Church. Over the years, the Kaufmanns have attended Vintage Downtown and Vintage North. In the fall of 2019, Elisha and David joined the core group to plant Vintage West. Elisha counts it a joy and privilege to do life in Cary and loves serving Vintage West. Elisha and David have three children; Laura, Isaac, and Samuel. Elisha enjoys outdoor family days, coffee, reading, and early morning runs.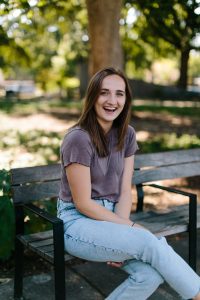 McKenzie Hill
Worship Director
McKenzie.Hill@vintagenc.com
McKenzie is from Winston Salem, NC and found Vintage Church while attending NC State University for her undergraduate degree in Brand Management and Marketing. Prior to working at Vintage, McKenzie worked as a personal trainer and group fitness instructor at a local gym in Raleigh and loves to be active and playing sports. She also enjoys singing and playing music and is amazed by the opportunities the Lord has provided to her through Vintage Church. She is also passionate about sitting with individuals as they walk and wrestle in their faith and loves to see the work the Lord does in their lives.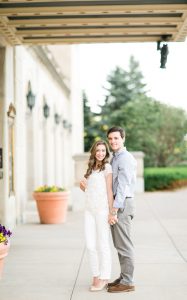 Brian Pell
Local Pastor
Brian has lived all across the U.S. and made it to the Triangle in the midst of the pandemic. Though he grew up in the church, he found it disappointing and would never have envisioned a life of ministry. But, God had other plans and transformed Brian's heart and mind in high school before calling him to pastoral ministry in college. He graduated from Grove City College with a couple degrees and recently finished his Mdiv from Denver Seminary. It was in Denver that he cut his teeth in various roles that involved preaching and teaching, and he helped lead a church out of one of its darkest seasons. Brian adores his wife, Kaitlyn, and his two Mini Aussies, Ryder and Rosie. He enjoys reading, writing, Florida football, and good coffee, bourbon, and music. He's energized and motivated at the opportunity to serve the Triangle and see the gospel transform people here.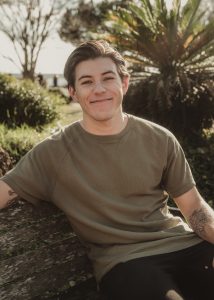 Ty Perry
Worship, Arts, & Production Director
Ty is a Raleigh native and first started coming to Vintage in his time studying Mechanical Engineering at NC State University. Despite being raised going to church, it wasn't until middle school where Ty truly encountered the Lord and gave his life to Christ. In high school, Ty met his now wife, Des, during a mission trip to Baltimore. She currently works as a high school English teacher here in Wake County. During those middle and high school years, Ty developed an interest in worship ministry through guitar lessons that he took with his local worship pastor. Over time, that interest eventually turned into a passion and sense of calling from the Lord to pursue full-time ministry-work leading him here! Ty loves movies, music, and eating at Chili's (is it controversial to say that they have the best chips & salsa?) and he is so excited to share God's goodness through worship here at Vintage Church!
Ty would also like to say for the record that he has always gone by "Ty" and did not adopt this nickname as a response to the excess of Tylers on Vintage staff.