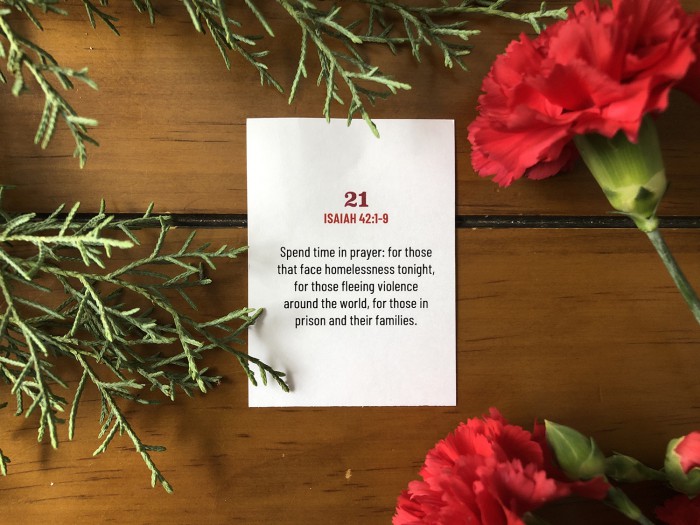 Advent Conspiracy, Day 21
By vintagechurch - On 21 Dec, 2018 - 0 comments
Does our version of Christmas speak to the violence, homelessness, and abuse we see all around us? If it's only warmth, family, and consumerism, Christmas doesn't apply. Culture's version of Christmas is essentially a bad cover song. The original version is the story of God becoming human to fulfill his promise to redeem the world, all to the glory of God. The world has distorted the meaning of Christmas to instead celebrate and call mankind to be the best that we can be – loving one another, forgiving one another, giving to one another. Certainly good ideas, but these originate in God himself – we only know love, forgiveness, and mercy because God has extended all three towards us.
On the day when we should be reminded of God's sovereignty, fulfilled promises, and our hopeful future in the Savior, we instead choose to pacify ourselves with a temporary pleasure. Dare to look beyond the tinsel and listen beyond the holiday clamor. You will find not a quaint folk story, but a revolution of love, a new kingdom, and a God who addresses the suffering in this world. Come January, the decorations and lights disappear, the lustre of our gadgets becomes commonplace, but our hope in the savior will live on.
Today's Scripture Passage
Behold my servant, whom I uphold,
my chosen, in whom my soul delights;
I have put my Spirit upon him;
he will bring forth justice to the nations.
He will not cry aloud or lift up his voice,
or make it heard in the street;
a bruised reed he will not break,
and a faintly burning wick he will not quench;
he will faithfully bring forth justice.
He will not grow faint or be discouraged
till he has established justice in the earth;
and the coastlands wait for his law.
Thus says God, the Lord,
who created the heavens and stretched them out,
who spread out the earth and what comes from it,
who gives breath to the people on it
and spirit to those who walk in it:
"I am the Lord; I have called you in righteousness;
I will take you by the hand and keep you;
I will give you as a covenant for the people,
a light for the nations,
to open the eyes that are blind,
to bring out the prisoners from the dungeon,
from the prison those who sit in darkness.
I am the Lord; that is my name;
my glory I give to no other,
nor my praise to carved idols.
Behold, the former things have come to pass,
and new things I now declare;
before they spring forth
I tell you of them."
-Isaiah 42:1-9