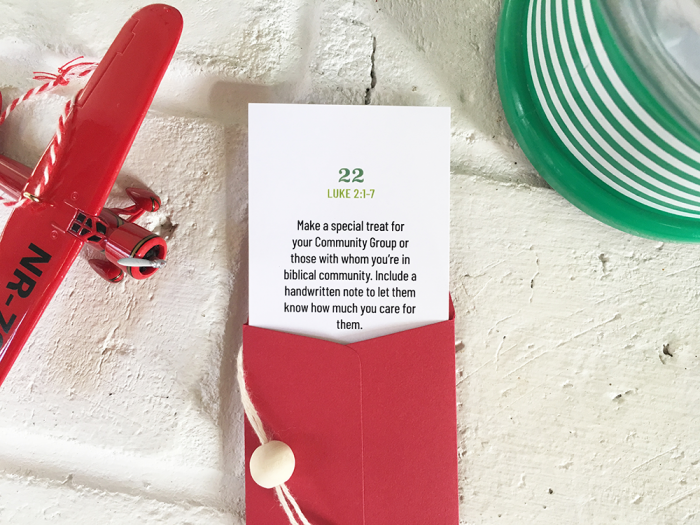 Advent Conspiracy, Day 22
By vintagechurch - On 22 Dec, 2018 - 0 comments
Today's Scripture
In those days a decree went out from Caesar Augustus that all the world should be registered. This was the first registration when Quirinius was governor of Syria. And all went to be registered, each to his own town. And Joseph also went up from Galilee, from the town of Nazareth, to Judea, to the city of David, which is called Bethlehem, because he was of the house and lineage of David, to be registered with Mary, his betrothed, who was with child. And while they were there, the time came for her to give birth. And she gave birth to her firstborn son and wrapped him in swaddling cloths and laid him in a manger, because there was no place for them in the inn. – Luke 2:1-7
There's some significant debate about where exactly Jesus was born. Here in Luke 2 all we get is that Jesus was laid in a manger, a food trough for animals, because there was no room in the inn. Considering the manger some say Jesus was born in a stable for animals, which you're probably familiar with from nativity scenes. Others think he was born in a cave used as a stable, like in the 2006 hit movie, The Nativity Story (spoiler alert). Another possibility is a public space in a house belonging to Joseph's family, considering poor Palestinians often brought their animals inside and fed them in mangers dug into the dirt floor.
Ultimately we don't know where exactly Jesus was born, or what it looked like, and maybe that's the point for us today. Here in Luke 2 that seems to be Luke's focus anyway. Having just given birth, obviously no small feat, Mary had to swaddle Jesus with no family by her side to help; having no provisions or accommodations, she had to lay him down in an animal's food bowl; having traveled for days to get to Bethlehem, Mary and Joseph were forced to improvise because the town had no room for them. Jesus, the King of Kings and Lord of Lords, was born in isolation, poverty, and obscurity.
With only a few days left until celebrating Christmas with your family and friends, consider how Immanuel came to be with mankind and yet was shunned even from his birth. Too easily we miss the undercurrent of heartache in Jesus' birth story, which ultimately foreshadows his loneliness and destitution on the cross. And yet, in the face of rejection, Jesus has welcomed us in the light of the Gospel and frees us to welcome others likewise. (Romans 15:7) As you prepare for your celebrations in the coming days, and as you take time today to bless members of your community with a treat and a note, consider the blessing of community in the name of Jesus.
Simultaneously, Christmastime is a season of loneliness and longing for many of us, even in the midst of family and friends. More than anyone else, Jesus can sympathize. (Hebrews 4:14-16)