buddies
What is buddies?
We believe God sees worth and value in each and every individual, and we want Vintage to be welcoming and accessible for everyone. Often, families that have children with special needs have a hard time attending church services because no one is equipped to care for their child. At Vintage Church Downtown, Vintage Buddies exists to provide a safe and loving environment for children with special needs and any child who may require additional support in the classroom. Children may require a buddy for a variety of reasons including: physical disabilities, a specific diagnosis (ie. Autism, ADHD, Down Syndrome, FASD, Sensory Processing Disorder, etc.), behavior problems, or as transition support for children who have joined families through adoption or foster care.
Who will the buddy be?
Vintage Buddies pairs your child with a friend (a trained and background-checked volunteer) who will attend Vintage Kids or Students with them weekly, helping them access games, lessons, crafts, and conversation in class on their level. Vintage Buddies has a goal of communicating to every child that they are wonderfully made. 
Next Steps?
If you are the parent of a child with special needs, or think your child would benefit from additional support, we would love to start the process with you. Please fill out the VIntage Buddies Wufoo form below. Once this form is completed our volunteer team will be in contact with you within 5 business days.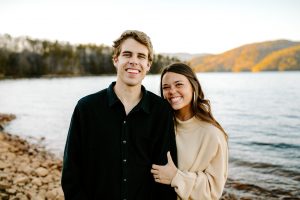 Hayes Sherman
Lead Buddies Volunteer
My name is Hayes Sherman, my wife Ella and I graduated from Clemson University and moved to Raleigh in the summer of 2021. Through college, I served as a Capernaum YoungLife leader where we spend time with and introduce the gospel to local high school students with special needs. I have a passion for individuals with special needs and that everyone is made in God's image and is a unique and invaluable part of creation and the church. I love to make others feel heard, cared for, and included. I can't wait to connect with your family!